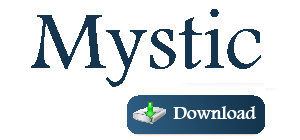 The RF design tool you didn't know you deserved it
.: what's new in 1.32
New feature available: s2p files containing also noise factor measurements are now accepted
New feature available: Option menu startup directory now accepts paths including spaces
Bug solved: minor s2p files reading problems solved
.: donate!
We invite you to donate to Mystic project.
We do appreciate any contribution: collected money are needed to finance new development.
Without support, it's hard to keep adding new features and even to maintain this site open.



Thanks for your help!
.: download Mystic
The package you're about to download contains the executable setup, an example data file and the End User License Agreement (EULA): downloading and/or using the software means you totally and unconditionally accept the EULA conditions.
Only for XP - Mystic Lite/Pro version requires Microsoft .NET Framework Version 2.0 or higher:
you can download it here
Version comparison table
Features
Mystic Lite
Mystic PRO
Unlimited-Time license
Yes
Yes
Max Number of components (stages)
5
Unlimited
Accuracy
1 dec digit
2 dec digit
User friendly GUI
Yes
Yes
Graphical data interface
Yes
Yes
Amplifiers working point check
Only on first stage
Yes
Linearity check
Only on first not linear stage
Yes
s2p file viewer
Yes
Yes
.: tutorials
Download links
Version
Size
Mystic User Manual
Learn how to use Mystic
This version may be newer than the one released with the installation package
0.6
0.48 MB
Tutorial #1
Change system performances quickly
Learn how easily is managing system performances using Mystic
1.2
0.9 MB
Tutorial #2
Finding IM3 products through IP3
Learn how to deal with non-linearity calculation using Mystic
1.0
0.1 MB
.: no adware statement
Mystic does not use and will never use any adware "stuff".
Mystic does not collect any click-through information and it does not show any banner.
Whenever you choose to uninstall Mystic, no program files or DLLs are left behind.
Save your time!

Try Mystic!

Help cover our costs